Vinci 2.0, the World's First Standalone Smart Headphones, recently passed $888,000 funds raised with over 6000 backers and over 4400% funded on Indiegogo. This product is SO popular because it combines music streaming, Wifi & 3G cellular connectivity, and fitness tracking - the perfect combo for fitness enthusiasts!
12 Places Where Vinci Replaces Your Phone
See What Real Users Think About Vinci 2.0
Top 5 Vinci 2.0 Features
1. Make Calls and Send Text Messages
Vinci 2.0 is a standalone computing device with a QuadCore ARM Cortex A-7 processor, Wi-Fi, 3G cellular and Bluetooth connectivity that offers phone calls and text messages directly from your headphones.
2. Immersive 3D Sound Quality
Over 5,000 hours of audio tuning to deliver an immersive HiFi audio experience!
3. Voice & Gesture Control
Vinci 2.0 allows for a completely hands-free experience by responding to your voice. Change tracks and adjust volume using simple hand waves near the earpieces. It can even use language processing and advanced recommendation algorithms to recommend music based on your heart rate, activity, and listening habits.
4. Smart Noise Cancelling
The gym is a noisey place, and you only want to hear your own music! So noise cancelling is very important and Vinci 2.0 is created with 8 different noise cancellation modes and various settings to match your listening environment. Whether you're exercising outside or indoors, Vinci can be tuned to just the right amount of noise cancellation.
5. Crystal Clear Vocals - Bone Conduction Microphone
Vinci 2.0 Super features a "bone conduction mic" for amazingly clear voice pickup and recognition. This allows you to give clear voice commands and make calls without having to raise your voice, even in noisy environments such as gyms and busy streets.
Vinci 2.0 Bone Conduction Mic - Explained
The Vinci 2.0 headphones are the result of completely rethinking headphones for the modern world. Vinci offers all the convenience of an all-included headphone with WiFi and cellular connection. This allows easy access to your music library and a top-quality listening experience using a sweat-proof magnetic neckband that holds your earbuds in place and securely during any workout.
Sweat-proof Neckband - Designed For Movement!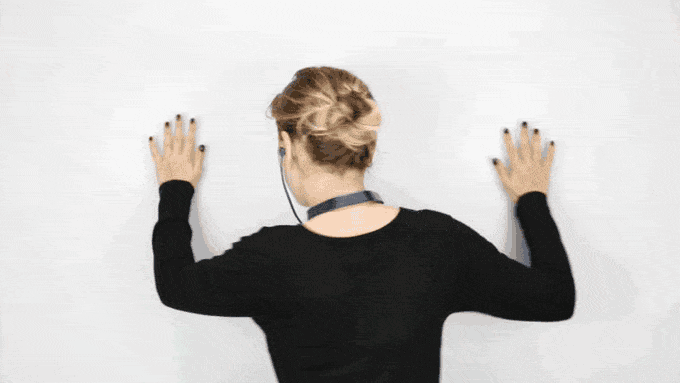 Vinci at CES 2018
Vinci at SuperBowl 2018
The People Behind Vinci
Inspero Inc. was founded in 2014 by two MIT Alumni, David and Max. The company's vision and mission is to completely rethink headphones and the mobile music experience. Vinci is one of their first projects to bring this vision to reality.
The Vinci team consists of 70 talented and passionate headphone geeks with many years of experience from companies such as Intel, Oracle, and Microsoft, and from universities such as MIT, Harvard, RISD, and Parsons. The company is spread across the globe, with operations in New York, San Francisco, Beijing, Bangkok, and Shenzhen.
"At Vinci, we're focused on reinventing headphones and revolutionizing the music listening experience," said Cathy Cao, U.S. business director for Inspero Inc., the parent company of Vinci. "Vinci 2.0 is a very ambitious product. By integrating Wi-Fi and cellular connectivity to stay connected at all times, uniting audio streaming services into a completely standalone device, adding an interactive voice assistant and gesture control system, providing real-time music recommendation and personal smart coaching, while maintaining strong consideration on audio quality, comfort, security, and battery life, Vinci 2.0 is truly optimizing the user experience."
Media Contact
George Pappas
Ignite Agency
[email protected]
IgniteCFP.com
Follow Vinci's Journey on Social Media