How can I participate in crowdfunding AND get collateral, security, and confidence of repayment? Only with a real estate investment through Groundfloor can a non-accredited investor get this kind of an opportunity. Groundfloor has built a platform to bring investors and borrowers together seamlessly, in an industry that has Hundreds of Millions of dollars of opportunity - what are you waiting for?
Key Facts
Groundfloor has originated 417+ loans worth over $54 Million.
Groundfloor's online platform uses bank-level security and encryption to protect your investment information.
Investors in Groundfloor have earned an average of 10-14 percent per year, over the past 3 years.
Now, through Groundfloor, everybody can participate in this and earn these returns through real estate investing.
If you are interested in real estate crowdfunding or investing, now there's a way to do it that wasn't there before!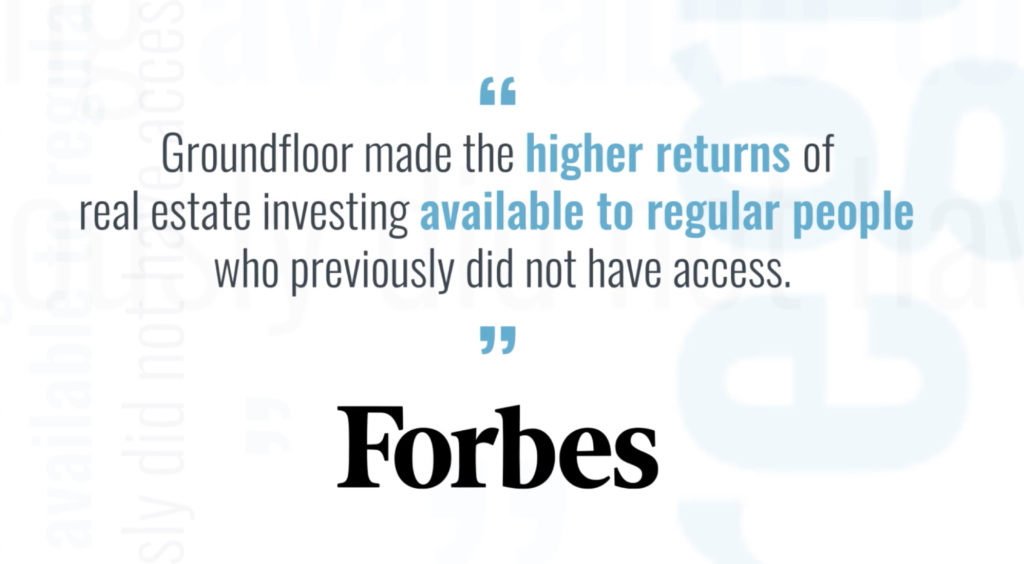 What Does Groundfloor Do?
Groundfloor makes borrowing transparent, fast, and easy so you can focus on what you're good at. They offer a frictionless way to bring investors' money to the people who need it with security, collateral, and confidence of repayment.
What Sets Them Apart
One of the most important things about what Groundfloor is doing is their philosophy that they want to enable the retail investors in this space - and there are very few people doing that part. So the potential for that part turning into a really high-scale business is absolutely there.
It is extremely rare to come across an investment company with the kind of "scale factor" that Groundfloor offers. There is a clear vertical path to go from your first real estate loan to the next - including commercial real estate loans, construction loans and more.
Highlights
Get access to deals that were previously only available to select accredited investors.
Groundfloor now focuses on the $40 Billion per year "residential fix and flip" market.
Future areas where Groundfloor could open further investment opportunities to investors include adjacent markets like non-bank new construction ($250 Billion market) and multi-family acquisition & renovation ($350 Billion market).
About Groundfloor
Groundfloor was founded in 2013 by Brian Dally and Nick Bhargava. The company is headquartered in Atlanta, Georgia with a fast-growing team on a mission to reformat and open private capital markets for the benefit of individual investors and the investments they fund.
We are a unique financial product for individual investors that allows non-accredited and accredited investors alike to participate in real estate investment loans. We open the door to short-term, high-yield returns backed by real estate. Typical loans have returned 12 percent annually on a six- to 12-month term.
To learn more about Groundfloor and to participate in the online public offering, please visit www.groundfloor.com/equity.
Media Contact
Tracy Rubin
JCUTLER media group
323-969-9904
[email protected]
Written By: Jordan @CrowdfundingHeadlines