One of the most successful crowdfunding campaigns of all time raised more than $100,000 from 160,000 supporters in six months. The project? Funding the pedestal for the Statue of Liberty. The platform? Joseph Pulitzer's New York World newspaper.
The year was 1885. Pulitzer's campaign shared many of the hallmarks of a successful crowdfunding campaign: It had an emotional pull—the statue was a gift that couldn't be received properly until the pedestal was built. It kept supporters updated regularly. It offered rewards for contributors. And it succeeded in a short span of time fueled by small donations that added up to about $2.5 million in today's dollars.
The crowdfunding that's taking place today began as a way for creative endeavors to get grassroots support, amplified by social media. Now, a growing number of entrepreneurs are interested in raising capital online and are bringing their ideas to websites such as Kickstarter, Indiegogo, FundRazr, RocketHub, and others. In 2012, business and entrepreneurship was the second most active crowdfunding category after social causes, according to GoGetFunding.com. This alternative method of raising business capital can be used alone or together with traditional funding from investors or small business loans.
"The entrepreneur is seeing a paradigm shift into the cloud and the crowd," says attorney Michael Melfi, author of The Simple Secrets of Crowdfunding. "It's transitioning the way entrepreneurs do business."
How crowdfunding works
An individual or company submits a campaign to a crowdfunding site; some, like Kickstarter, require approval. The campaign sets a funding goal, a deadline (usually 30-60 days), and reward levels for supporters, whose contributions function as donations rather than equity investments. In most cases, you must meet your goal to receive any funding; if you fall short, you get nothing. The website takes its fee, usually four percent to five percent, only when a campaign succeeds, but newer sites are starting to offer variations. Indiegogo, for instance, has a flexible plan that charges four percent if you reach your goal and nine percent if you don't—but you get to keep what you raised even if you fall short. Businesses also must pay transaction fees of three percent to five percent of the total raised.
In 2013, crowdfunding campaigns in the United States raised more than $2.7 billion overall. According to research firm Massolution, that number is projected to more than double this year. As competition for "backer" dollars grows exponentially, how can a small business stand out from the pack? Successful projects do at least four things well, experts say:
Build up a network, and credibility, before launching a campaign
Craft a solid business plan
Use compelling messages, especially video, to connect with supporters
Communicate with backers during and after the campaign
Melfi, who practices intellectual property law, also serves as general counsel for Funderbuilt, a crowdfunding portal designed for small businesses. Funderbuilt offers members a toolbox of resources to guide their preparation, and then scores each campaign with a Funderfactor. The process requires business owners to think through their business plans, Melfi says.
"It is opening doors for people who historically may not have thought of themselves as entrepreneurs," Melfi says. "What's exciting is that you're seeing all kinds of entrepreneurs. For the person who's been a successful entrepreneur or who already has some backing, they may turn to crowdfunding more for proof of concept."
Build your network first
That's what Bright Agrotech did when it lacked the cash flow to make a prototype for a new product line. The Laramie, Wyoming-based company created the ZipGrow tower, a vertical farming system. Founded in 2010, the company used YouTube videos to cultivate a following among the "eat local" and sustainable farming movement, says Chris Michael, director of marketing and operations. In 2012, the company leveraged that following to raise about $28,000 via Kickstarter, which enabled them to make the molds for a new home gardening product called the Spring System. They surpassed their goal by about $8,000.
"The idea was, we could outsource the funding of the development process to a degree," Michael said.
In its first year, Bright Agrotech made about $10,000 in sales. This year, Michael says, the company is on track to reach $1 million, with about 15 percent of sales now coming from the new product. Michael says the company is proud to have bootstrapped its growth and remained true to the values that appealed to its customers in the first place.
"It allows us to stay super agile and keep the company moving without having to appease people who are not connected at a fundamental level to our company goals," he says.
Offer an emotional investment, too
People who support crowdfunded projects want to feel they are part of the process, Melfi says, helping to turn a dream into reality.
Mike Whitehead knew cooks were rediscovering the superior qualities of cast iron and were concerned about potential health risks from aluminum and Teflon. But premium cast iron cookware was hard to find in the U.S., and vintage skillets were selling for up to $400 on online auction sites. So Whitehead founded FINEX Cast Iron Cookware Co. in 2012, updating the traditional skillet with an octagonal shape and a quick-cooling handle.
Ron Khormaei, who came on board as CEO the following year, had shepherded Kickstarter campaigns for other businesses. Khormaei could see the nostalgic appeal of the product and suggested crowdfunding to finance the company's first production run. In 2013, FINEX, based in Portland, Oregon,  shot past its goal of $25,000, raising$211,027 from 1,558 backers on Kickstarter. A second campaign to fund production of a smaller skillet met its goal on day one, Khormaei says.
Whitehead became the face of FINEX, Khormaei says, through compelling YouTube videos and regular progress updates to their Kickstarter backers on manufacturing.
"That communication helped build a community," Khormaei said. "They looked at FINEX as friends rather than a company. That's definitely a requirement for any real success in crowdfunding."
Develop a dialogue with supporters
Khormaei said that good will came in handy when the company suffered from its own success. They had planned on an initial production run of 250 skillets, but received nearly 1,800 orders. Khormaei says the company communicated early to its Kickstarter backers when they realized there would be a delay, and emailed them regular updates about the production cycle. Many of their supporters responded positively, saying they were willing to wait for a high-quality product from a company whose values appealed to them. Khormaei noted that people who support crowdfunding typically want to invest in ideas, not just shop for products.
When Molly Lofthouse launched Lenz Frenz, a line of stuffed animals that contain an eyeglasses case for children, she used email and social media to meet mini-goals along the way, and thanked supporters by name on Facebook.
"On Facebook, I would say, 'Who's going to get us to $2,000?'" Lofthouse said. "I got us to bump up our contributions several times doing that." In February, Lofthouse met her $20,000 goal on Kickstarter. All 12 versions of Lenz Frenz are now in production and for sale through the company website. Lenz Frenz has also participated in two toy industry trade shows this year to attract large retailers.
Before the campaign, Lofthouse also reached out to bloggers and associations focused on kids' vision issues to create buzz. She kept them updated, along with customers, both during and after the campaign, to build anticipation for the product when it went on the market. Afterward, she thanked supporters and also threw a party for those who could make it to her hometown of Austin, Texas.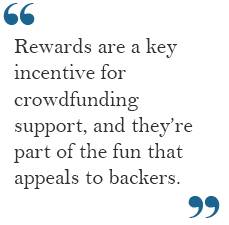 Make rewards unique or meaningful
Rewards are a key incentive for crowdfunding support, and they're part of the fun that appeals to backers. Many businesses thank donors by offering their product or service at a steep discount. Collector's editions and personalization are popular as well.
Think about what else you can offer exclusively. Lenz Frenz' top supporters received the first fruits of the initial product run they helped finance, along with the other rewards Lofthouse offered at lower levels. Bright Agrotech offered a reward level that unlocked a video tour of its greenhouse. Creative projects like film or music have offered top supporters the chance to make a cameo, meet the artist, or name a character in a book.
Leveling the playing field
Khormaei says crowdfunding helps to level the playing field, especially for entrepreneurs who don't live close to centers of finance and venture or angel capital. Melfi says it also helps them to build up assets before they approach a bank for a loan. Or it can improve their negotiating position with venture capitalists.
"If done properly, crowdfunding tees up the entrepreneur for the next level," Melfi said.
by Erin O'Donnell, posted originally in posted by Touchpoint in Technology, taken from Bank of America Small Business Community blog